Description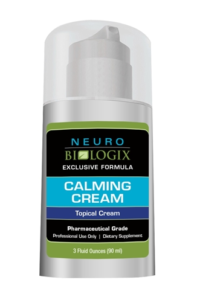 Calming Cream – $43.90 (tax and shipping included)
Calming Cream™ was designed by a leading neuroimmune specialist to provide maximum transdermal delivery ofgamma-aminobutyric acid (GABA), L-Theanine, L-Tyrosine, 5-HTP and Magnesium to create a creamy lotion in a base of lavender oil.

Calming Cream may naturally assist with:
Relaxation
Nervousness
Mood
Hyper Activity
Sleep Disturbances
Trouble Falling Asleep
This topical cream is designed to increase the levels of the calming reducing neurotransmitters in the brain such as dopamine, GABA and serotonin. For more information you may watch the video provided on this page for details on usage and how the cream works. (60 Pumps Per Bottle) Light brown color is expected and normal due to the natural L-Tyrosine.