Description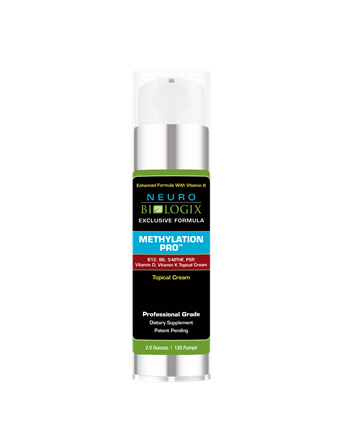 Methylation Pro – $56.50 (shipping included)
NEW! Enhanced Formula With Additional 5-Methyltetrahydrofolate (5-MTHF) and Vitamin K!

Advanced Topical Cream for Neurological, Nervous & Immune System Support / Ultimate Methylation Support

The addition of Vitamin K in this methylation suppport cream is recommended for those who are hindered by a methylation deficiencyand/or a VDR Taq genetic polymorphism which inhibits the person's ability to absorb vitamin D at the cellular level without the cofactor Vitamin K. Impaired vitamin D function due to this polymorphism can result in significant immune weakness, early bone loss and increased risk of cognitive decline and mood issues.*

As a solution, our unique topical delivery system, assures that our pharmaceutical grade Methylation Pro promotes and enhances the methylation processes needed to improve the production of glutathione, increase Vitamin D levels and allow maximum B12, B6 and vitamin delivery to the nervous and immune systems. This potent nutrient-rich cream may help maximize and aid in:

Mood Improvement & Stabilization
Mental Focus & Concentration
Organization Skills
MTHFR Mutations
Short Term Memory Loss
Supporting a healthy sleep cycle
Immune Function and well-being

Such nutrients as Pyridoxal 5-Phosphate (B6) and Vitamin B12 in a methylated form called methylcobalamin (Methyl B12) and hydroxycobalamin (Hydroxy B12), natural Vitamin D and K assist the body neurologically and physically.