Description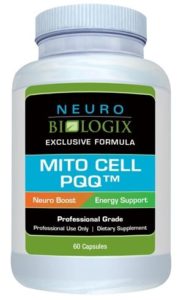 Mito Cell PQQ – $58.50 (shiping included)
9 ingredients to assist in the support and function of the mitochondria.

NEW EXCLUSIVE FORMULA created by a nationally renowned Neuro-Immune Specialist. This formula is recommended to help naturally support the decline of mitochondrial function associated with methylation deficiencies and immune and nervous system weakness.

Mito Cell PQQ can help with these issues typically found in people with:

Neurological Instability*
Growth Delay*
Loss of Energy
Delay In Recovering*
Poor Muscle Tone/Weakness
Developmental Issues
Gastronintestinal Issues
Immune Weakness

Pyrroloquinoline Quinone(PQQ) and NADH(B3) are two major ingredients which form this powerful supplement. With the combination of these 9 ingredients, selected by our advising physicians, ensures that these key ingredients stimulate proper mitochondrial function and guard against mitochondrial degeneration.

What May Be The Benefits:

Improve overall energy*
Increase memory and focus*
Improve immune function*
Provide nutrients to brain needed for optimal function*
Increase cognitive health and may reduce stress*
Provide the necessary energy to mitochondria*
Improve energy production at the cellular level*

*These statements have not been evaluated by the Food & Drug Administration. This product is not intended to diagnose, treat, cure or prevent any disease.
Features
What Mito Cell PQQ includes?▪Pyrroloquinoline Quinone 20 mg

▪NADH 20 mg

▪Ubiquinone (CoQ10) 75 mg

▪Acetyl L-Carnitine 200 mg

▪5 other key ingredients for mitochondrial & cognitive performance