Description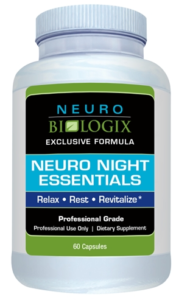 Neuro Night Essentials – $41.50 (shipping included)
Neuro Night Essentials, created by our advising physicians, is a proprietary blend of seven ingredients, specifically designed to promote healthy sleep, support the body's normal nocturnal rhythms during stress, and help those who may have occasional sleeplessness.*
Overview:
Sleep is the body's way of metabolically and psychologically resetting itself for the next day. The body's circadian rhythm is regulated by an internal biological clock. In order to maintain quality and restorative sleep, it is crucial that the brain has optimal levels of serotonin and gamma-amino butyric acid (GABA), the relaxing sleep regulating neurotransmitters, as well as the sleep regulating hormone melatonin. The combination of the ingredients in Neuro Night Essentials will help naturally boost levels of neurotransmitters that promote relaxation prior to bedtime and promote deep and complete stages of sleep.
GABA:
Gamma-amino butyric acid (GABA) is one of the major inhibitory neurotransmitters in the brain. GABA provides a calming effect and plays a direct role in serotonin synthesis.
Melatonin:
Is a natural hormone in each one of us that is produced in our pineal gland. It effects the sleep and wake cycle and should peak at night. Sometimes, due to stress, hormone imbalance, illness, or other issues, that cycle can be disrupted. Melatonin gets you back on track. It is quickly metabolized, allowing you to have quick and effective results.
Amino Acid Support – Amino acids are the building blocks of life and are critically important for nerve cell health as well as neurotransmitter and hormone production and balance.


GABA – the main calming amino acid in the central nervous system, this naturally produced substance helps to induce relaxation and sleep. It is also known for supporting healthy pituitary function as well as for its calming effect on over-stimulated neurotransmitters.
Melatonin – a natural hormone produced by the body that helps regulate other hormones and maintains the body's circadian rhythm. It supports the body's own production of the tranquilizing neurotransmitter serotonin, which plays a key role in healthy sleep patterns and mood. Recommended by more and more doctors as a safe and natural sleep enhancer, melatonin has become the most popular sleep-support compound in the nutrition world.
5-HTP – used by the body to make serotonin. Several small clinical trials have found it may provide significant support for sleep, mood, and headaches.
L-Theanine – a calming amino acid found in green tea that can increase levels of GABA (gamma-aminobutyric acid). Studies suggest it may reduce feelings of mental and physical stress and may produce feelings of relaxation. It is also thought to enhance immune function and boost levels of glutathione. L-Theanine increases the brain's alpha wave activity, which is associated with deep relaxation.