Description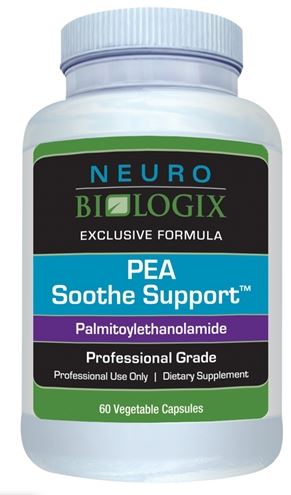 PEA Soothe Support – $52.90 (shipping included)
Improved Formula – Resveratrol (from Japanese Knotweed Root Extract)
Palmitoylethanolamide (PEA) is a bio-identical fatty acid amide that Is normally synthesized by healthy tissue In the human body in response to inflammation. PEA is made by various plantsand animals and is present throughout the animal kingdom. PEA can be found in many different tissues including glia, neurons, retina, white blood cells, mast cells and adipocytes.
What Is PEA?

Supplementing with PEA has been scientlffcally shown to naturally assist in the reduction of inflammation and to have neuro-protective and possibly pain control effects. This natural anti-inflammatory supports the nervous system and abnormal immune responses.*
Palmitoylethanolamide (PEA) – backed by more than 300+ medical studies, has been shown to be or assist with:

Natural Pain Reliever
Anti-inflammatory
Homeostasis regulator
Neuroprotective at the cellular level
Pain and nervous system conditions
Muscle recovery and muscle pain
Immune system support
What are Glial and Mast Cells?
Glial cells are various types of companion cells in the central and peripheral nervous system. Once thought to be nothing more than the glue that holds the brain together, these cells are now understood to have a much more complex role in the brain besides simply acting as a scaffold. Glial cells are responsible for nourishing neurons, facilitating nerve impulses, and exerting an inflammatory response on neurons. Dysregulation and over-activation of glial cells can have a detrimental effect on the nervous system[6,7,8].
Mast cells are a type of immune system cell that responds to chemical signals from tissue injury. When mast cells "degranulate," they release a payload of inflammatory cytokines, NGF, histamines, and other molecules in the surrounding tissue. These chemicals attract white blood cells and activate their immune response against pathogens. Mast cells also activate nociceptors (pain receptors) with the chemicals they secrete.
How does it work?
Palmitoylethanolamide is thought to act primarily on the Peroxisome Proliferator Activated Receptor Alpha (PPAR-α), a receptor in the cell nucleus. It also has affinity for the cannabinoid-like G-coupled receptors GPR55 and GPR119, although it has no affinity for the classical cannabinoid receptors CB1 and CB2. This is why it is sometimes referred to as a non-psychoactive "indirect endocannabinoid."
It does not block pain signals the way opioids and other analgestics do. Instead it works upstream by supporting the healthy function of glial cells and mast cells.*
Please read "PEA For Pain": http://neurobiologix.com/v/vspfiles/downloadables/PEAforPainBlog.pd
Directions: Adults begin taking 2-3 capsules daily with food for two to three weeks when starting a PEA regimen as an initial loading phase before decreasing tothe recommended twice-a-day dosing. Children under the age of 5 consult with your healthcare practitioner before use.
NOTE: In some cases, patients see a benefit from consuming 4 capsules a day for two to three weeks when starting a PEA regimen as an initial loading phase before decreasing to the recommended twice-a-day dosing.
FDA Disclaimer
*These statements have not been evaluated by the Food and Drug Administration. This product is not intended to diagnose, treat, cure, or prevent any disease. Not to be used by pregnant women.