Description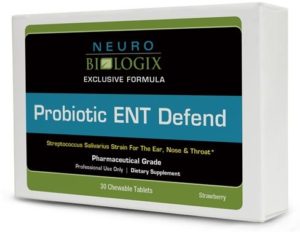 Probiotic ENT Defend – $21.50 (shipping included)
Probiotic ENT Defend is a chewable, pleasant tasting strawberry chewable that activates in the oral cavity for support of ear,nose and throat health. As you chew, Probiotic ENT Defend releases the Bacterium strain of Streptococcus salivarius, a beneficial and needed bacterium that normally occurs in a healthy oral cavity. S. salivarius adheres to cells in the cavity and positively affects the bacterial population and natural immune defenses.

Benefits of using Probiotic ENT Defend:

Fresh Breath
Immune Support
May help support the occurence of pathogens in the mouth

Influence of Streptococcus salivarius probiotics can have many health benefits which can occur through the inhibition and omition of pathogens, modulation of the immune system to reduce pathogen induced inflammation or by helping the immune system to rapidly respond to pathogens.*
Features
Tablets are individually sealed in nitrogen-purged aluminum blister packs, which serve as protection from factors proven to compromise the stability of probiotics, such as heat, moisture, and oxygen.

Directions:

As a maintenance dose, after your bedtime oral hygeine routine, chew one tablet slowly and completely before swallowing. During periods of increased need, chew up to 3-4 tablets per day in divided doses for 90 days or as directed by your healthcare practitioner.

Not recommended for children aged 4 or younger without direct recommendation or supervision of a healthcare practitioner. This product should be administered by an adult.

Pregnant or lactating women should consult with their doctor prior to use.

Do not use if foil is punctured.

STORAGE: Store in a cool, dry place. Refrigeration is NOT necessary.

*These statements have not been evaluated by the Food and Drug Administration. This product is not intended to diagnose, treat, cure or prevent any disease.