Description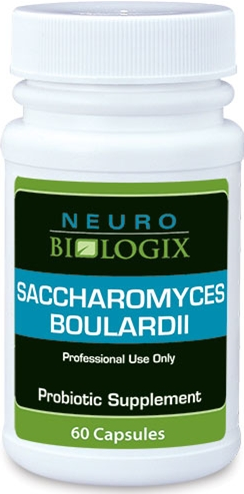 Saccharomyces boulardii – $31.90 (shipping included)
Saccharomyces boulardii is a non-pathogenic, transient yeast long-used for diarrhea or dysentery. It is a hardy, acid-resistant, temperature tolerant microorganism that is not affected by anti-bacterial agents.
S. boulardii is genetically and functionally distinct from brewer's yeast (S. cerevisiae) and different from pathogenic Candida species. S. boulardii increases the activities of intestinal brush border enzymes such as disaccharidases, a-glucosidases, alkaline phosphatases, and aminopeptidases. It secretes a leucine aminopeptidase that appears to support against allergies to dietary proteins following acute gastroenteritis. S. boulardii augments the intestinal absorption of D-glucose coupled with sodium that may enhance uptake of water and electrolytes during diarrhea. It increases stool concentrations of short-chain fatty acids that nourish colon mucosal cells. It modulates immunity by boosting intestinal secretion of IgA and increasing crypt cell immuno-globulin receptors. It inhibits inflammatory cytokine pathways and secretes a factor that blocks C. difficile toxin A activities.
Research has found that S. boulardiisupports healthy intestinal function in an array of clinical settings including antibiotic-associated diarrhea, C. difficile disease, inflammatory bowel disease, irritable bowel syndrome, and traveler's diarrhea.
Neurobiologix S. boulardii is American Type Culture Collection (ATCC) certified and freeze-dried to maintain maximum potency and viability. Many manufacturers substitute brewer's or baker's yeast and use lactose in production. Neurobiologix uses only lactose-free, gluten-free material. This hypoallergenic formula is available in vegetarian capsules containing 150 mg (3+ billion CFUs).