One of the hardest things about raising kids is getting them to actually eat the dinner you cook for them.
I have spent years training my kids to eat vegetables. I place one or two bites on their plates and tell them they don't have to eat it…but they can't have a "treat" after dinner if they don't.
They almost always do.
I have learned to rate the healthfulness of my meal by the sound of puke sounds at the dinner table (gross I know…but I have one kid that HATES squash).
But this Tex-Mex Chicken & Black Bean soup is a favorite across the board!
I love that it's so easy to customize the ingredients to what you like. I could eat this everyday and not get tired of it!
Hope you love it too!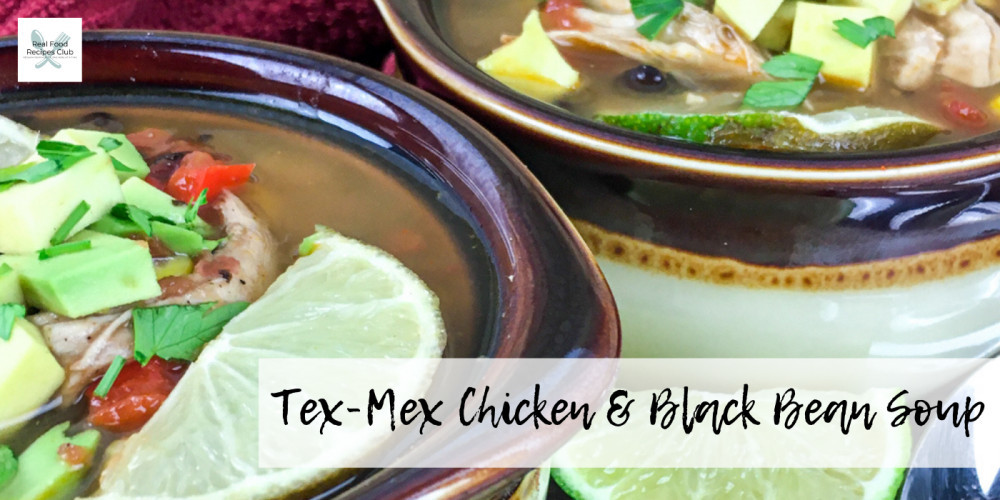 Tex-Mex Chicken & Black Bean Soup
Prep time: 20 minutes
Cook time: 40–45 minutes
Serves: 4–6
Tex-Mex Seasoning Mix Ingredients:
¼ c. chili powder
2 T. ground cumin
2 t. ground coriander
1 T. garlic powder
2 t. smoked paprika
1 t. fine sea salt
½ t. black pepper
Ingredients:
2 T. extra virgin olive oil, divided
2–3 large cloves garlic, finely chopped
½ medium white onion, diced
1 medium red bell pepper, diced
Sea salt and black pepper, to taste
1 14-oz. can diced fire-roasted tomatoes with green chilies, with liquid
1 15-oz. can black beans, drained and rinsed
2 whole bay leaves
3½ c. chicken broth, preferably organic
1 lbs. boneless, skinless chicken breasts
1 c. sweet corn kernels
3 T. fresh lime juice
To Serve:
1 large avocado, diced
Fresh cilantro, chopped
1 large lime, cut into wedges
Directions:
1. To prepare the Tex-Mex seasoning mix, combine all ingredients in a medium-sized bowl and stir to combine. Transfer to an airtight storage container and store in a cool, dry place for up to 6 months.
2. Add olive oil, garlic, onion, and red bell pepper to a large, high-sided skillet set over medium heat. Sprinkle two tablespoons of the Tex-Mex seasoning mix on top and stir to combine. Cook, stirring frequently, until vegetables are crisp-tender and start to develop some color, approximately 4–5 minutes.
3. Add fire-roasted tomatoes, black beans, bay leaves, and chicken broth and stir to combine. Nestle the chicken breasts into the skillet so they are completely submerged in the liquid.
4. Increase heat to medium-high and bring to a rapid boil, then immediately reduce heat to just below medium. Cover skillet loosely with a lid and simmer for 35–40 minutes, or until the chicken is cooked through and shreds easily with two forks.
5. Stir in corn and fresh lime juice and simmer until heated through, approximately 5–10 minutes. Remove from heat and discard bay leaves. Taste and adjust seasonings, as desired, and serve immediately topped with diced avocado, fresh cilantro, and lime wedges for squeezing.
Feel free to add or subtract any of the ingredients to make it spicier or less spicy.
My kids added tortilla chips and it was a #MOMWIN (aka no puke sounds healthy meal)!
Need more amazing recipe ideas? Join my FREE Facebook Group Real Food Recipes Club.